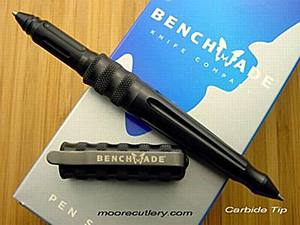 1101-2 Pen Blk Carbide
FREE SHIPPING

Benchmade Tactical Pen has a fully anodized aluminum body. The outside of the pen, cap and pen grip are anodized a very dark charcoal color. The cap snaps securely onto the pen while open or closed. A clip has also been attached to the cap as a convenient carry option. The tip of this pen, opposite the ink tip, is a carbide glass breaker. Writes in black ink and takes a Fisher space pen ink cartridge. Made in USA.

Length: 5.31"
Thickness: 0.50"
Material: 6061 T-6 Aluminum
Weight: 1.30 oz.
Country of Origin: USA

Free Shipping!