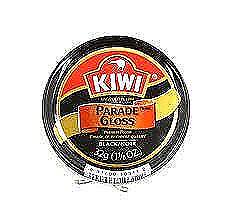 17963,Shoe Polish,Bk,PrdGls SM
17963-SM Kiwi Parade Gloss Shoe Polish

High wax content provides durable, ultra glossy shine.

Features:
KIWI Parade Gloss gives shoes and brilliant, durable shine. That's because its superior multi-wax blend contains premium wax and more carnauba wax than regular paste polishes.
The result - a brighter, longer lasting shine that's water repellent.
Covers scuffs and leaves a mirror finish in minimal time.