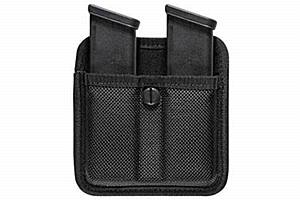 18797,Triple Threat II Blk Sz2
Model 7320 Triple Threat™ Magazine Pouch Features
Will retain magazine for
Glock 17,19,22,23
Beretta 92, 96 Series
Browning Hi-Power
H&K P7-M13, P2000-V2, P2000SK
Ruger P89, P91, P94, P95
S&W 411, Sigma SW40F, SW 99
Sigarms P226, P228, P229, SP2009, SP2340
Springfield XD-9, XD-40

Custom molded and contoured.
High-density tri-laminate construction.
Unique Coptex™ inner lining: 100% polyknit material provides a smooth draw.
Adjustable tension screw.
Slides on up to 2¼belt slot.