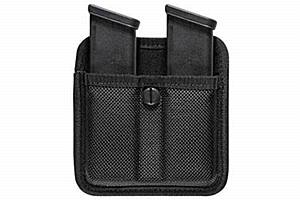 18799,Triple Threat II Blk Sz4
Model 18799 Triple Threat™ Magazine Pouch Features
Will retain magazine for:
Beretta 8045
Glock 20,21
H&K USP .40/.45
Para Ordnance P12, P13, P14, P16

Custom molded and contoured.
High-density tri-laminate construction.
Unique Coptex™ inner lining: 100% polyknit
material provides a smooth draw.
Adjustable tension screw.
Slides on up to 2¼ belt slot.