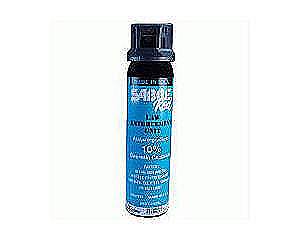 52H2030-F, MK4 Foam OC
Sabre Red 3.3oz Foam Spray #52H2030-F

Sabre®, the world's most effective defense spray!
Rated #1 in independant lab testing year after year3.3 ounces of 10% Oleoresin Capsicum and 1.33% Capsaicinoids.
Guaranteed 2,000,000 SHU delivery.
Non-Flammable formula for compatibility with EMD's such as TASERS.
FOAM stream pattern for effective delivery with minimal blow-back.
Delivers 25 one-half second bursts.
Will fire upside-down.
Try to fire the competitors brand upside-down and then turn the cannister over and fire upright. The result is CLOGGING! Sabre brand will NOT CLOG!
Used and trusted by NYPD, Arizona State Police and 100's more federal, state and local law enforcement agencies!
Made in the USA product.