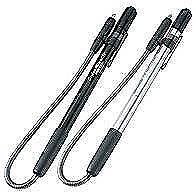 65618, Stylus Reach,Blk/Wh
65618 Stylus Reach
7The Stylus Reach® includes a 7 inch flexible cable that enables you to see into even the tightest spots. Available with a white LED or blue LED for leak detection.

Includes flexible 7 inch extension cable that allows for 14 inches of reach
Case available in black or silver
High-intensity LED lasts 100,000 hrs.
Powered by 3 AAAA alkaline batteries
Runs up to 60 continuous hrs.
LED available in arctic white (10 lumens)
14 inch extended; 6.75 inches folded
1.7 oz.