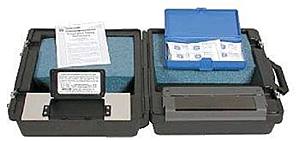 CFP500A, Fingerprint Kit
CFP500A Fingerprint Kit
Fingerprint Taking & Recording Kit

"SIRCHIE®'s Compact Folding Fingerprint Taking Kits are among the most popular of their kind available. When opened, these kits convert any desk or tabletop into efficient fingerprint taking stations. They are ideal choices whenever maximum portability is required. The kits are come with a regular Porelon® pad, Fingerprint card holder, and Fingerprint ink cleaner towlettes.