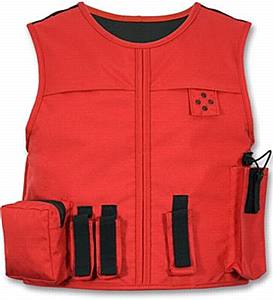 Carrier, Instructor Red OCS
Instructor Vest
Includes 4 pockets as shown, and custom ID tags.

Take your ballistic protection to the range with the newly redesigned Armor Express Instructor Vest. As a firearms instructor, you know the importance of safety, but as we all know, no matter how careful we are accidents still happen. With the versatile Instructor Vest you will have the ballistic protection you need to stay focused o the job at hand.

Made from durable nylon material, the instructor vest features internal plate pockets accommodating 5 x 8 trauma plates up to 10 x 12 rifle plates, fully adjustable shoulders and an internal cummerbund to secure the vest to the wearer. The instructor vest is now sized to specifically fit your concealable panels.


Before you order please click "armor measure" at the top of the page and click on link to go to Armor Express Sizing forms. Click on Male or Female sizing form. Fill out personal information and sizing information. Then e-mail sizing sheet to austin@mypolicestore.com or fax to 480-968-3449.