Free Shipping on Cool Cop Universal and Crown Victoria models! No promo code needed. Automatically applies to order.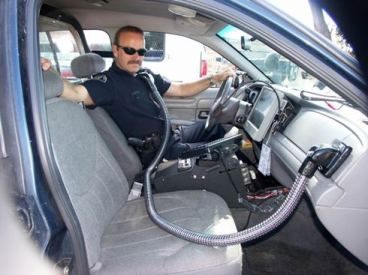 On a hot day there's nothing more uncomfortable than having to wear a T-shirt soaked with sweat. Add a bulletproof vest over it and no amount of air conditioning coming from your car vent is going to keep you cool and dry. CoolCop™ gives you relief!




The CoolCop attaches easily onto the air conditioning vent, and the soft vinyl vest attachment fits comfortably between your vest and undershirt. Cool air is then delivered under your vest to keep you cool, dry and comfortable. Close the additional air vents and adjust the temperature on the a/c unit as needed.




In just minutes, between calls or while report writing, your t-shirt is as dry as it was in briefing!CoolCop was invented and is owned and operated by a police officer in Northern California. CoolCop products are 100% manufactured in the USA! Satisfaction guaranteed. CoolCop has sold in all 50 states, Canada, Puerto Rico, UK, and Australia. CoolCop has been on ABC News and CNN and is used by officers every day to keep cool and comfortable while wearing their vests! CoolK9 and Rear-Air were designed for police and sheriff K9 units, tactical and swat units, corrections, medical transports, airport bomb dog units, search and rescue teams, military dog units and private security companies worldwide. CoolK9 is endorsed by Canine Liability expert Terry Fleck, Jeff Meyer and Police K-9 magazine.

Select a Cool Cop category:

2 products in this department, displaying products 1 to 2.
Cool Cop
Universal - Fits Any Vehicle
FREE SHIPPING!

On a hot day there's nothing more uncomfortable than having to wear a T-shirt soaked with sweat. Add a b...

$64.95

Cool Cop-Crown Vic Vent Cup
The new and improved "Crown Victoria" dash cup. Better air flow then previous Crown Victoria Model Cool Cop dash cup with better fit and function. A...

$24.95