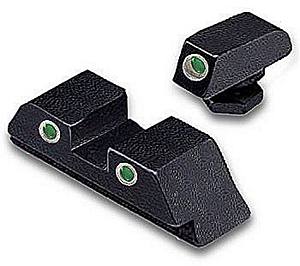 GL01, Night Sight 9mm/.40
Trijicon GL 01 GREEN DOT Night Sights fits Glock models 17/17L, 19, 22, 23, 24, 26, 27, 33, 34, and 35.

FREE SHIPPING applies automatically.

Complete Trijicon Night Sight Sets for Glock GL01 for the Glock automaticpistols. Plastic blades are replaced with all steel blades with nightsights. Trijicon self-luminous iron sight are proven to give shooters fivetimes greater night fire accuracy with the same speed as instinctive shooting. Trijicon is proud of its reputation for incredibly reliablenight sights. The unique shock resistant design is patented and usedexclusively by Trijicon . That's whyTrijicon Night Sightsare the first choice of major handgun manufacturers, andstandard issue with hundreds of municipal and county departments,numerous state police departments and several federal agencies.Reliability and precision are the distinct advantages, Trijicon Night Sights are fully warranted for up to 12 years. Construction forstrength starts with a tritium filled glass lamp core which issurrounded by a silicone shock cushion. This is further protectedwithin an aluminum sleeve that is faced with a hard, polished sapphirewindow. The sapphire provides a precisely circular aiming dot as ellas sealing out the elements. Trijicon Night Sights GL-01 are built to withstand years of recoil and harsh duty use.