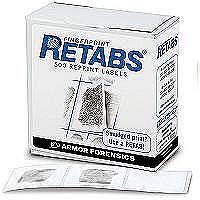 LE-42,RePrints,500/box
LE-42 Retabs Correction Labels 500 Pack

Pressure-sensitive correcting labels for unacceptable prints. Usable for both ink methods and Digit 10 or IdentaPrint Inkless Fingerprint systems. Retab labels are on a continuous ream. Simply roll print on correcting label and affix to fingerprint card.

Instructions: Remove a strip of labels from easy dispensing box. Roll finger until an acceptable impression is obtained. Then apply to card over bad print. No time wasted fighting to remove protective backing.

These labels are intended for used with the LE-10 Digit 10 and LE-15 IdentaPrint systems.