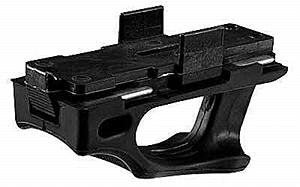 MAG020B, Ranger Plate Loop
3 PACK !
Intergral M16/AR15 floorplate replacement with loop. Plate is stainless steel and over molded with plyable rubber/plastic as used in the Magpuls. Seperate internel lock follower (included) prevents plate sliding off.

The Magpul Ranger is a floorplate replacement for current issue USGI 30 round magazines that incorporates an integral loop, floorplate lock, and mag identifier. When installed on the base of a magazine, the Magpul Ranger provides unsurpassed speed and controllability during high stress, tactical magazine changes.

Loop is made of pliable Santoprene overmolded onto a stainless steel plate.
Patented design based upon the tried and true para-cord loops and duct-tape tabs currently in use with special warfare units worldwide.