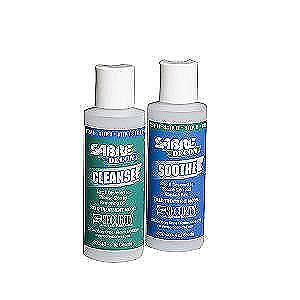 SD-40, Cleanse/Soothe 4oz
Sabre Red AD-40 SABRE DECON
Cleans and Sooths Face after OC Contamination.!
A Clean Face Never Felt So Good!

Dramatically Reduces Effects of Chemical Agents!

SKEPTICAL? SO WERE WE!
Since the inception of SABRE Law Enforcement Aerosol Projectors, several proposed decontamination concepts have been presented to Security Equipment Corporation. These products enhanced pain, spread capsaicinoids increasing contaminated areas or did nothing at all. Due to their significant short comings, we declined to take these products to market.

WHY SABRE DECON WORKS
It is impossible to both clean and soothe the skin with a single formula. SABRE DECON effectively uses two unique solutions to combat the effects of chemical agents, prevents reactivation (exercising/hot showers) and further contamination of unwanted areas.


FIELD TREATMENT MODELS
Ideal compact size for usage on officers and subjects after deploying chemical agents to control subjects / inmates (Cruisers, In-Take Areas, Arsenal Room, EMS). Decons approximately 6 people.